The CAHPERD (California Health Physical Education, Recreation and Dance) and NRB (National Religious Broadcasters) conferences were more than good. DA:NCE had an incredible response to our presentations, exhibits, and interviews. The best ever. And it was in person for the first time in 2 years.
The cultural doors are opening….

During my presentation at CAHPERD, the title of my talk was 'Wholesome to Hypersexualized: What Happened to Children's Dance?' A special time with insightful questions. One physical educator in my session said, "I saw 4th graders performing hypersexualized dance that was inappropriate but I had no research to back up my opinion. Until I came to this session." It was a privilege to supply this educator with the information that she needed.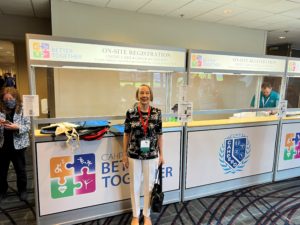 At CAHPERD, Anne Kubitsky gave a keynote talk from 'look for the good' project. Anne directed her remarks with a focus on healing (in the body) from trauma. She high-lighted the work of trauma expert Linda Thai who understands how to help kids move through the stress they experience. It was an in-depth talk about the challenges we face resulting from any kind of trauma (including the trauma of children's hypersexualized dance).
Her talk outlined 5 areas of organic need for human beings and asked: What are the results of not getting your emotional and physical needs met persistently? She went on to explain that children need these 5 things to thrive:
Physical comfort and wellness,
Safety and a support system,
A community to belong to that accepts a child unconditionally (they can be themselves),
Experiences that help them believe in themselves (self-esteem)
Hope for their personal future (a reason to get up in the morning).
Anne emphasized that these are not human wants; they are human needs. Children need adults to help them acquire these things. She likened human needs to an invisible battery that we have inside. When we have these 5 things, we are fully charged. When we're missing some of these basic needs, our batteries don't work. The more our needs are met, the more our batteries are charged.
If children undergo any kind of trauma, the problem is not the stress; it's the situation causing the stress. Actually, trauma shows up to alert children to fix what they need(but they often can't; adults need to help them). Stress is a signal to push them to do something to heal. Internally and organically, children know when they feel safe and when they do not. The action cycle (developed by Ron Kurtz) is often cited in trauma therapy. Brain research agrees with the findings of Kurtz. He says that each emotion has a natural cycle to it: insight(what do I need right now), effective action, satisfaction(I recognize the need has been met) and rest. We are wired in our bodies to discharge stressful energy. If kids deny or suppress feelings, they get stuck. Barriers begin to form in the action cycle (insight, response, nourishment, completion) that thwart healthy developmental outcomes. Because children do not have past life experiences, they have a difficult time identifying abusive environments. Often, they deny their feelings. Especially when they are traumatized. On the surface, they tell themselves that they are fine. But they're not. During the research I present in DA:NCE powerpoint presentations, I emphasize trauma outcomes for children that are exposed to hypersexualized dance.
Now onto NRB.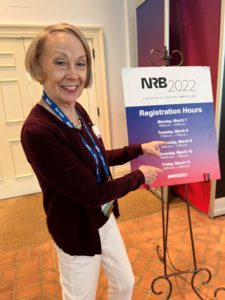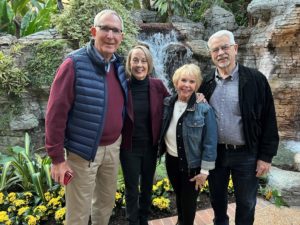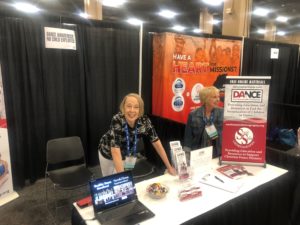 At NRB, we couldn't keep up with the positive responses to DA:NCE. I was interviewed many times. The requests are still coming in. This past week I had three additional invitations: podcast, radio, TV. Exciting and over-whelming! This was thanks to our wonderful crew: John Hoefs, Judi Hoefs and Richard Bawden. All of us worked from early in the morning (5:55am to 9pm at night). At the end of the conference, we were pooped.
Now let me share some NRB stories. I met a dance major at our NRB exhibit from a university setting; she let me know that she wants to research and write for DA:NCE. She understands the issue of hypersexualization of children in adult costumes, choreography and music and plans to go through the volunteer process. Now take a look at just a few of the interviews I had at NRB:





Interview with Michelle Canfield
Epoch Times Interview
Susie Jennings with Op Care
Christian authors network interview
Point of View interview
I also need to mention a dinner the DA:NCE team had with composer Steve Silar (Music for the soul.org). The song he has composed about healthy dance for DA:NCE ('She Loves to Move') will be released in May.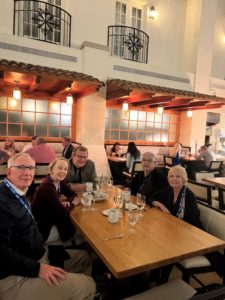 And last but not least, last week I spoke to another dance educator who has applied to volunteer on the DA:NCE Team. She emailed me today to let me know that she went to a conference and shared the research about the hypersexualization of children in adult costumes, choreography and music with conference attendees.
How about you?