Join our Movement to Protect Children in Dance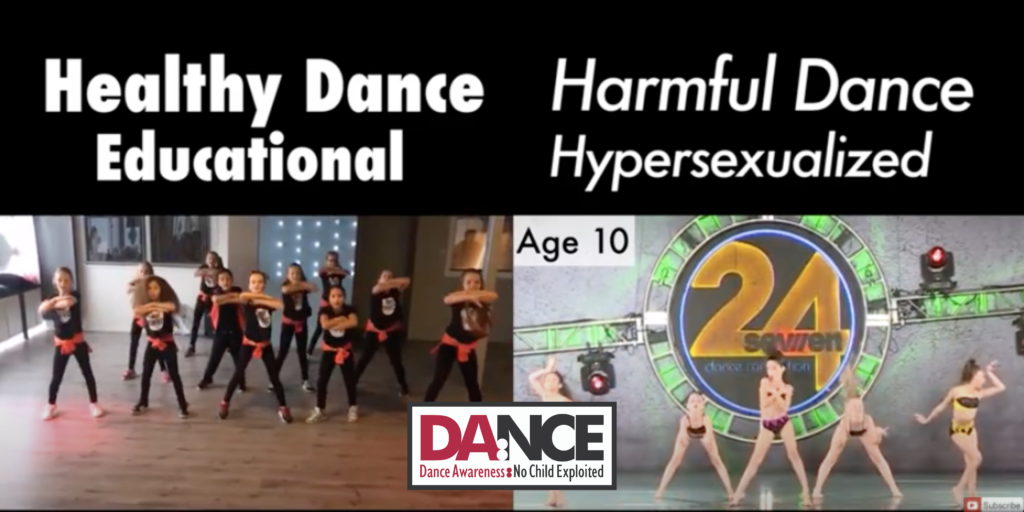 Millions of children are watching or performing hypersexualized dance in adult costumes, choreography and music. The research says that this is harmful.
Predator$ love it, the porn indu$try enjoy$ it, and the media indu$try thrive$ on it.
But children are being exploited.
At DA:NCE, we are dedicated to raising awareness about hypersexualized children's dance as we provide free resources to empower adults to take action.
Through our work, we are educating adults to understand the harmful effects of sexualized children's dance. Our free resources are giving parents confidence to search for dance studios that provide healthy dance for their children. Our videos and social media campaigns are reaching thousands. Our work is making a difference!
But, as you know, this work requires resources. That's why we are inviting you to have a direct hand in protecting children in dance. Your donation will help us continue to punch holes in the darkness. Are you able to join us with a financial gift?
Join the movement.
Join healing.
Join hope.
Donate today.
Your donation can help us:
A donation to DA:NCE will help ensure that children are protected from hypersexualized dance choreography, costumes, and music, and that adults have the education and resources needed to facilitate healthy change in dance studios.
Make a donation
Step 1: Donate
Step 2: After you donate, fill out the form
DA:NCE is a program of Soul to Sole Choreography, a Section 501(c)(3) organization, EIN 20-0370145. Contributions are tax deductible to the extent allowed by law.
option one
Donate through Zelle
Zelle Email
donate@danceawareness.com
Step 2: Fill out the Form