Wow. What a wonderful conference was put on by The National Center on Sexual Exploitation(NCOSE) in Washington DC from April 4-8! My husband Richard attended the Summit with me along with Elizabeth Knight who posts social media entries on behalf of DA:NCE and Soul to Sole Choreography. It was the first time that we met face to face? Elizabeth is the owner/founder of Aplomb PR in Wisconsin and I highly recommend her services. It was a joy to share time with Elizabeth and Richard, have their support, and then be present to hear the many speakers at this incredible event!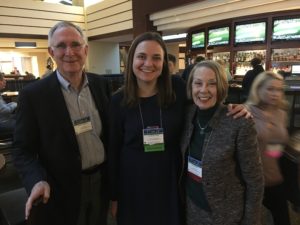 Before I share about DA:NCE and my speaking at the conference, can I challenge you with some personal reflections? In my opinion, the attendees at this conference embodied healthy reflection that puts intentional action 'to do good'(Psalm 37:3 ) into their lives. Our culture moves so fast that we are either intentionally or unintentionally leaving behind the most vulnerable citizens around us for sexual exploitation. Children. Can I encourage you to quiet your heart, stop, and notice what is happening around you because the public health issue of porn is everywhere. It can be easy to miss your life—both the beauty and the ugliness of what is around you. As we take the time to drench ourselves in observation, it gives us purposeful time to look around at the cultural and personal landscape that informs our humanness. Let's give some personal space to observe ourselves as well as the culture.  In essence, I actually mean that I want us to 'read our lives' objectively.
Who are you becoming and what values flavor your choices?
We can't all do the same things but we can be purposeful about what we are called to do (whatever it is). When the culture (composed of individuals) allow a business like backpage.com to facilitate ordering a child or a man or a woman for sex like a piece of pizza or a sofa, something is really wrong. I am out-raged. In the same way, my heart hurts when dance studios allow children under 12 to be put into adult costumes, choreography and music(and they may be uneducated in this regard as are parents and the culture). What has happened to our humanness? Research shows that when children are exposed to hyper-sexualization before their brains are fully formed (approximately age 25 years), they experience developmental childhood trauma. One recent article said that they self- objectify who they are and the value that they have ('An Investigation of young girls' responses to sexualized messages.' (Science Direct December 2016). In another article titled 'Little Girls in a Grown-Up World: exposure to sexualized media, internalization of sexualization messages, and body image in 6-9 year olds' (Science Direct September 2016),the findings provide preliminary evidence that sexualized messages appear to be internalized by very young girls which, in turn, have negative implications for how they feel about their bodies.  Last, in an article entitled 'Contemporary Girlhood: Maternal Reports on Sexualized Behavior and Appearance Concern in 4-10 year old Girls' (Science Direct September 2014), researchers used over 800 mothers to come to the following conclusions:
Many 4-10 year old girls engage in 'grown up' or potentially sexualized behaviors.
Engagement with teen culture, use of beauty products and attention to clothes merge as unique predictors of appearance concern.
What are we doing (or not doing) to the kids around us? The job of healthy adults is to protect and love children, always choosing age-appropriate, healthy activities for guidance into adulthood. Let's provide adults with the education and awareness through DA:NCE to realize that goal.
So now, dance team, let me share some details about speaking on this topic at the NCOSE conference and conclude this blog with a grand finale tip. In my talk, I told stories about my personal experiences in dance that contrasted the wonderful benefits of dance(research-based) versus the negative outcomes for children when they are hyper-sexualized in dance through adult costumes, choreography and music (also research based). The worst part?–on-going computer glitches in my presentation. Oh well. What happens happens. The word still got out. That's what is important to me. Throughout the conference, there was incredible research presented, inspired speakers, good food, wonderful people, and even a trip for Rich and I. It was called 'Day on the Hill' and it had specialized training related to effective communication with congressional leaders. You may also have heard that the FOSTA-SESTA bill passed Congress a few weeks ago; that bill allowed the FBI and the IRS to take down backpage.com. Woo-hoo! The conference also had some incredible video material that was shown. If you haven't seen 'I Am Jane Doe', I'd recommend that you view it on Amazon or Netflix. It's about three young girls of 13, 15 and 15 who were sold for sex on backpage.com.
And my grand finale tip: How do you pick the right dance studio for your child?
It's actually pretty simple.
Check out the June dance concert in your local area. Observe the kind of choreography, music and costumes that are on display for the concert, paying attention to any hyper-sexualized adult choreography, music or costumes designed on children. For help to find an age-appropriate dance studio, go to Y.P.A.D.(youth protection advocates for dance). Great organization.
This topic to be continued next month. With the addition of some really exciting news!