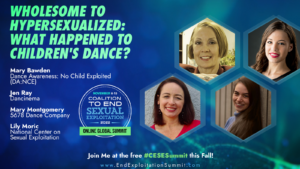 I am lucky. It's Christmas time year 'round.
So many ongoing gifts of goodness.
I love presents.
I spotted my first gift in 2013 at the inaugural CESE(Coalition to End Sexual Exploitation) Summit in Washington DC. The Summit is sponsored by  NCOSE (National Center on Sexual Exploitation) and it is an amazing experience. There are countless sessions to attend about our 'pornified culture' that expanded my limited background on harmful cultural patterns from experts. Even more incredible is the gift of meeting organizations and individuals committed to goodness. Goodness includes the ability to fight for a world free from sexual abuse and exploitation. To do that, we need to be educated so that we can make informed choices.
At the 2022 Summit, people attended across sexual abuse and exploitation sectors as well as from a diverse range of professional, political, and personal backgrounds; they gathered to be informed, equipped, connected and inspired. In what context? To preserve respect, intimacy, mutuality, responsibility, and love in human sexual relationships. I'm a better human being after I attend each conference.  Navigate to the CESE 2022 link. Scroll down the page so that you can see the speaker list at the bottom. This year I was honored to be on a panel with 2 other dance educators. Our session was called 'Wholesome to Hypersexualized: What Happened to Children's Dance?' Look up my name along with experts Jen Ray from Dancinema and Mary Montgomery of 5678 Dance Studio. Now take a peek at the actual link to the panel video. Enjoy!
I volunteered to be on the dance panel as a gift to educate you. However, I want to share additional gifts that opened my heart to knowing how to thrive in our current culture. In the spirit of Christmas, please re-gift this blog to others. Here we go:
Kristen Jenson, Founder of 'Defend Young Minds', had a session called 'The 4 Pillars of Prevention'. She started out by sharing 2 startling statistics: the largest minor group of perpetrators in porn are male predators from 11-15 years of age. 44% of CSAM material (child sexual abuse material) that is distributed involves self-generated content that children learn from the internet. Unbelievable. If we don't educate our kids about sex, then Dr. Youtube and Dr. Tik-tok does. They're open 24/7. Then, another big one: 1 to 10 visitors to porn sites are kids under 11. When children are exposed to adult sexual resources, the brain research shows that there is brain shrinkage in the pre-frontal cortex. This negative development affects a child's decision-making in the present and in the future. I hate to tell you that the research is not clear about how to normalize a child's brain that has been harmed in this way. The research also shows that children exposed to porn lead to future mental health challenges, trauma, and abuse. Sadly, as adults, hypersexualized children often do not get married and enjoy stable relationships. Therefore, let me share some major points from 'Defend Young Minds' and list the 4 pillars that Kristen talked about:
Sexual Integrity
Emotional Strength
Technical Stewardship
Brain and body safety
If you go online, you'll get a dissection of what these categories entail. They are all practical. Here is the link.
Next I'd like to share a powerful presentation on the beauty of the arts. The session was called 'Hearts and Minds: Using the Arts to Advocate for Human Dignity'.  This gathering included remarks from Steve Siler who composed 'She Loves to Move' for DA:NCE  Of course, the topic of restorative arts refers to healthy dance rather than harmful dance.  Healing. When we choose to expose ourselves to age-appropriate criteria, the arts are powerful. They serve as a powerful gateway to redeem the heart from hurt and trauma. They are empowering. In the right hands, humans expand the way that we communicate to ourselves, and forge new ways to communicate to others. In fact, the way out of trauma is to transform the experience. Not define us. Facts alone do not change people. They need to be known, heard and understood. The arts can affect the redemption process in a powerful way. That's why I often say that the solution to harmful dance is healthy dance.
Last, I'd like to inform you about a session on resiliency as it relates to trauma. Resilience: the ability to recover quickly from illness, depression or adversity. This was a panel headed by Stephany Powell from NCOSE, writer Jas Raulinson, Monique Johnson of Fresh Start and Andrea Baker from Suma. They emphasized that you can overcome the most traumatic childhood by 'choosing to thrive.' They focused on creating boundaries, looking to be fully known, reflecting on what is good and beautiful with gratitude, and understanding self-care. I particularly appreciated hearing that trauma doesn't have to be a life sentence (spoken by a survivor leader). Resilience is not just a word; it's a journey of growth that allows someone to flourish. Wise words.
There were many more sessions at the Summit. Each session was a gift of goodness. It's wonderful to align with organizations and people who call out evil cultural patterns so that the world exists as it should. The goal? To allow children and adults to be respected and loved as human beings, not commodified and objectified.
This year, one of many gifts at Christmas is the CESE Summit. It's an early Christmas present. I hope that you share this gift in your relational world with many other people. As you open up the gifts under the tree this Christmas, reflect not only on what you receive but what you give to others, and remember that Dance Awareness: No Child Exploited exists to protect children from hypersexualization in adult costumes, choreography and music.
Merry Christmas!