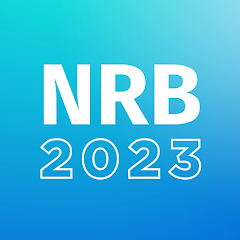 So DANCE Team, what in the world do I mean by a DA:NCE marriage? Lean in.
The nuptials took place in Orlando Florida from May 22-25. It's a partnership that's taken a few years to plan. But it was worth it. In 2022, DA:NCE conducted personal interviews through our 'Share Your DA:NCE Story' Campaign by marrying the research about hypersexualized dance outcomes  with real stories of real survivors in dance. In March 2023, we released this powerful new resource:  'Dance Studios and Children: 3 Survivors Speak About Hypersexualization'.
One of those interview survivors was Jaime Logan. In a communication serendipity, Jaime and her husband Jonah, traveled with my husband and I to attend the 2023 National Religious Broadcaster's (NRB) Conference. NRB has the ability to expose the mission of DANCE to many people via broadcast channels. We want people to know that we educate caring adults about the hypersexualization of children in adult costumes, choreography and music. Of course, we also lift up healthy dance. As usual, the NRB schedule was jam packed with ongoing interviews, podcasts and TV shows that included a powerful this new twist: research and story.  Because Jaime joined me in the live interview process, there was a marriage. As the Founder of DA:NCE,  I brought researched information about the hypersexualization of children in adult costumes, choreography and music as well as my personal story of healthy dance. Jaime shared her personal story of abuse from hypersexualized, harmful dance. It resulted in the combination we have longed for at DA:NCE: a powerful display of evidence and personal story-telling that penetrated listening hearts. At the end of Thursday when we were scheduled for a TV interview, the producers remarked that they saved the best for the last with our interview.
A big thank you goes to Jaime. You may remember that she has written several articles for the DA:NCE Newsletter including the one that we released in May 2023. BTW, Jaime has a degree in psychology and shares her story to help others. Identification of a problem empowers others to do the same. Please spread the word. Now onto other aspects of NRB: the Exhibit Hall and a Sponsorship Ad. Yup, we had an exhibit booth and an ad at the conference. In the exhibit booth, we talked to a lot of people about DA:NCE and we got a lot of sign-ups for the DA:NCE Newsletter. How about YOU ?  Our experience was overwhelmingly positive. And, believe it or not, we were interviewed for a podcast  in Spanish. The translator? Jonah Logan. He spoke fluent Spanish. The bottom line? EVERYONE thanked us for caring about this issue as they ate our BOOTH candy😊[lots of chocolate].
And now, what do I mean by Yearlong celebration?
Of course, I'm referring to 'She Loves to Move', the $5000 Call for Choreography from September 2022 to the end of June 2023.😊 What a wonderful encouragement to lift up healthy dance! As the months have passed, it's been exciting to receive video entries for 'She Loves to Move'. I have enjoyed the process and perspective from each one of them. They water my heart with joy and with creativity. And, of course, let me remind you of our DANCE adjudicator: Marlita Hill. She holds a BFA and MFA in dance. As a reminder, listen to my introduction of Marlita😊  and take a peek at the judging rubric.
Bravo to all of the submissions that we have already received😊.
It really is a yearlong celebration.
DA:NCE can hardly wait to announce the winner in September!